About Sir C.P.Srivastava


A little about Sir C. P. as he is fondly called Sir C.P. was born on 8 July 1920 as son of B. Srivastava in India. He lost his parents at the age of 6 years and was brought- up under the guidance of his uncle. He was an exceptional student at the Lucknow University – India.
In the year 1947 he married SHRI MATAJI NIRMALA DEVI. He was a well-known Member of Indian Administrative Service (IAS). In 1964 he worked as Private Secretary under the then Prime Minister of Independent India, Shri Lal Bahadur Shastri.
After the Prime Minister's death C.P. Srivastava was appointed as Chairman and Managing Director of Shipping Corporation of India. In the year 1972 he was awarded by the President of India with 'Padma Bhushan'. In 1974 he was selected as Secretary General of the UN-INTERNATIONAL MARITIME ORGANIZATION for a four year term and got re-elected thrice. Upon Sir C.P's retirement he was designated as 'Secretary-General Emeritus', the only Indian to have been so honored by the United Nations.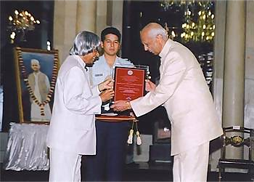 He is also the founding Chancellor Emeritus of the World Maritime University,
Conceived and established by him in the year 1983. He has been honored with over 40 international awards of very high honor.
He was the first Indian to be honored by the Queen Elisabeth II of England
With the Knighthood (KCMC) which got him the title of SIR - The Honorary Knight Commander.
Similar great national honors have been bestowed upon him by the Kings of Sweden, Norway and Spain and by the President of Germany, Poland, Portugal, Brazil, Argentina, Egypt, India and many other countries.
In 2005, he got the Lal Bahadur Shastri National Award for Excellence in Public Administration, Academics and Management, which was presented by the President of India, Mr. A. P. J. Kalam.
In 2009 he was awarded by the President of India, Mrs. Pratibha Patel with the Padma Vibhushan.
He got Gold Medals for proficiency in English Literature and Political Science:
L.L.D. (Doctor of Law Honoris Causa), Bhopal University, India 1984,
L.L.D. (Doctor of Laws Honoris Causa), University of Wales, U.K., 1987
L.L.D. (Doctor of Laws Honoris Causer) University of Malta, 1988
He is Author of the books:
LAL BAHADUR SHASTRI, Prime Minister of India 1967 – 1966. A Life of Truth in Politics (first published in 1995), CORRUPTION – INDIA'S ENEMY WITHIN (first published in 2001), and WORLD MARITIME UNIVERSITY – first 20 years (published 2003). He also wrote a number of Articles on Shipping.
After his retirement he accompanied his wife Shri Mataji Nirmala Devi around the world and helped her in spreading Sahaja Yoga around the world.
After Shri Mataji's Samadhi, he was the Chairman of the H. H. SHRI MATAJI NIRMALA DEVI FOUNDATION till he died on 22-July-2013 for below 2 projects:
VISHWA NIRMALA PREM ASHRAM – Home for Destitute Women and Orphan Girls and SAHAJA YOGA HEALTH &RESEARCH CENTRE in GREATER NOIDA – INDIA